Union Pacific "Big Boy" 4014
A Brief History Of This Engine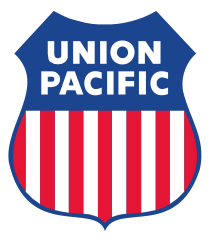 Donated by Union Pacific Railroad in December 1961, locomotive number 4014 was the most famous locomotive in RailGiants Train Museum's impressive display of locomotives during its 52 years here. Union Pacific No. 4014 is a Big Boy class steam locomotive having a 4-8-8-4 wheel arrangement. They are the heaviest single expansion steam locomotive ever built, weighing about 1,200,000 pounds. Big Boy locomotives are hinged (or articulated) because of its great length. Its forward pony trucks and drive wheels swivel independently of the boiler and rear drivers when rounding curves. The Big Boy class was designed for transporting heavy freight trains, without assistance from helper locomotives, primarily on the Wasatch Mountains between Ogden, Utah and Green River, Wyoming. In their later years of service, Big Boy's service territory was extended east to Cheyenne. Big Boy No. 4014 was retired in 1959 after 18 years of service. Number 4014 arrived at the Los Angeles County Fairgrounds on January 8, 1962.
In the summer of 2013, Union Pacific reacquired Big Boy number 4014 and plans to restore it as an operating steam locomotive as part of its Heritage Locomotive fleet. Big Boy No. 4014 departed RailGiants Train Museum on November 14, 2013, when it began its gradual journey across the fairgrounds parking lot. It departed the Los Angeles County Fairgrounds at 2:45am on January 26, 2014, and arrived at Union Pacific's West Colton facility in Bloomington, California, at 1pm that afternoon.
Big Boy number 4014 departed Bloomington, California, at 9:15am on April 28, 2014 to begin its 11 day, 1250 mile journey visiting four states. Thousands of people watched this retired steam locomotive being towed by SD70 locomotives UP No. 4014 and UP No. 4884, and visited Big Boy No. 4014 while on public display at Las Vegas, Salt Lake City, Ogden, and many other cities and towns along the way.
Number 4014 arrived in Cheyenne, Wyoming on the afternoon of May 8, 2014, where it will begin extensive restoration work. After restoration is completed in about five years, it will take its place at its new home on the entire Union Pacific System.
The True King Of The Rails
Though only 25 Big Boys were built, eight still exist today. The Big Boys are located at these locations:
• 4004 -
Holliday Park
Cheyenne, Wyoming
• 4005 -
Forney Transportation Museum
Denver, Colorado
• 4006 -
Museum of Transportation
St. Louis, Missouri
• 4012 -
Steamtown National Historic Site
Scranton, Pennsylvania
• 4014 -
Union Pacific Steam Shop
Cheyenne, Wyoming
• 4017 -
National Railroad Museum
Green Bay, Wisconsin
• 4018 -
Museum of the American Railroad
Frisco, Texas
• 4023 -
Lauritzen Gardens
Omaha, Nebraska
Bar none, Alco's Union Pacific Big Boy articulated engines were, in their time, the true kings of the rails, and most rail fans to this day, still believe it is. In total, 25 Big Boys were built in two groups of twenty and five locomotives respectively. All were coal burning, with large grates to burn low quality Wyoming coal from mines owned by the railroad. One locomotive, number 4005, a conversion to fuel oil was attempted as an experiment, but was not completed. This attempt was motivated by a threatened coal workers labor strike. When this threat disappeared, the conversion efforts were no longer needed.
Big Boy locomotives rendered important service in the Second World War, especially since they proved so easy to fire that even a novice could do a fair job. Since many men were unsuited for combat service or otherwise exempted from military service, they were hired by the railroads to replace crewmen who had gone to war. This proved advantageous for the military and the railroads. During the war, U.S. railroads hauled countless servicemen, huge volume of vital raw materials, war cargo, and essential military equipment around the country. When Union Pacific required expansion of their locomotive fleet to haul additional tonnage, U.P. requested permission from the U.S. Government to procure diesel-electric locomotives. The resources required for diesel-electrics could not be spared. However, raw materials were approved to build five additional Big Boy steam locomotives. Their performance in moving a huge volume of war material throughout WWII was repeatedly cited and the Big Boys are generally acclaimed as having made a huge contribution to the war effort.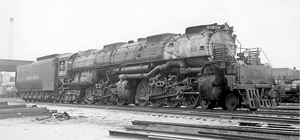 Postwar increases in the price of both coal and labor and the efficiency of diesel-electric and gas-turbine motive power foretold a limited life for the Big Boys, but they were among the last steam locomotives taken out of service. The last revenue train hauled by a Big Boy was on the evening of July 21, 1959. Most were stored operational until 1961, and four remained in operational condition at Green River, Wyoming until 1962. Their duties were gradually taken over by diesels and turbines.
Click on the PDF icon to open your copy of our Union Pacific #4014 Brochure.

Union Pacific #4014 Brochure