Nickel Plate Business Car No. 6
A Brief History Of This Car
This car was owned by the Palos Verdes Peninsula Railroad Company. Before arriving here, an Orange County real estate developer, The Robert P. Warmington Company, used this car as a showpiece at their sales headquarters. They went to great lengths to restore the car. Deciding to dispose of it, the R&LHS chapter was approached and asked to accept and move the car. The car was eventually moved to its present location at the Los Angeles County Fairgrounds in Pomona, California and restored to its present condition. Built in July, 1923 as a 10 section Observation Lounge car named Mountain City. Pullman rebuilt it into an 8 section Dining Solarium Lounge car named Carleton Club with Air Conditioning for service between Cleveland, Ohio and St. Louis, Missouri on the Nickel Plate Railroad. In 1959 the NKP rebuilt the car as Business Car 6. When the Norfolk & Western acquired the NKP, # 6 was sold to the Palos Verde Peninsula Railway Company for private rail car travel. The new owners installed red drapes, carpets, Propane Refrigerators and stove, Crystal Chandeliers and took trips to Del Mar during the racing season. The car eventually was purchased by the Robert P. Warmington Company and used in Anaheim Hills as a sales office for their Housing development. When all of the homes were sold the car was donated to the Chapter.
The Pullman Era - Luxury On The Rails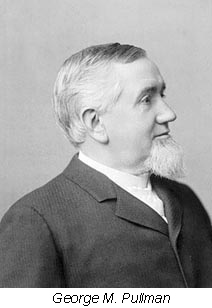 George Mortimer Pullman was born in western New York in 1831, where he worked as a county store clerk and a cabinetmaker. When he moved to Chicago in 1859, he coordinated teams of laborers who raised and moved buildings, a service desperately needed by a city built largely on swampland. Despite this successful career, Pullman had a strong interest in revolutionizing the railway sleeping car. He had once traveled overnight from Buffalo to Westfield in New York and his accommodations were so uncomfortable that he spent the entire evening devising a new railcar design.
To pursue his goal of improving the sleeping car, Pullman needed capital, so in 1860 he relocated to Colorado, where he ran a general store and an ore refinery. In 1863, he returned with heavier pockets to Chicago, the railway capital of the North, and began to put his ideas in motion. Pullman foresaw the growth of a rail-dominated economy and with it the growing wealth of the professional class.
"The Pioneer", Pullman's first attempt at a luxury car, initially failed because it was too wide for railway platforms and bridges and the railroads refused to accommodate it. But after the Pullman car was included as part of President Lincoln's funeral train in May 1865, both Pullman and his car received national publicity and soon became famous for luxury train travel. In 1867, at the age of 36, Pullman established the Chicago-based Pullman Palace Car Company.
The luxuries of a Pullman Palace Car included freshly prepared gourmet meals, dining cars, chandeliers, electric lighting, table lamps with silk shades, leather seating, and advanced heating and air conditioning systems. As the railway network and cross-country travel increased, the desire of passengers to travel in one of these luxury cars grew too, just as Pullman had predicted.