Welcome to RailGiants Train Museum
Birthplace of the Big Boy Steam Dream, and home to the RailGiants of Southern California's premier railroads!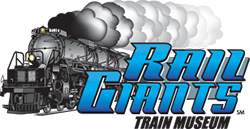 RailGiants Train Museum at the Los Angeles County Fairgrounds in Pomona, California is a historical journey back to the glory days of the American Railroad.
Our Museum houses some of the country's most well-preserved Locomotives, which includes several sole survivors of their respective classes. Our RailGiants collection contains two of the four surviving 3-Cylinder steam locomotives; SP #5021 and UP #9000. The largest diesel locomotive, a Union Pacific "Centennial," is also here. In addition to our locomotives, we have various pieces of Rolling Stock (freight and passenger cars), our historic Arcadia Depot, Library Archives, and Gift Shop.
We are open free to the public during the second weekend of each month, except in May, from 10 am to 5 pm. Ample parking is available. During May, we are an exhibit inside the Los Angeles County Fair, which requires paid admission. Please check our Event Schedule.
Special Announcements

Union Pacific Caboose No. 25392
Recent addition to RailGiants' Collection
The Railway and Locomotive Historical Society, Southern California Chapter greatly appreciates the gift of this caboose by the City of Montclair, California. This caboose was relocated to RailGiants from Spirit of Freedom Park in Montclair on February 26, 2020. Visitors can now see our new caboose on our open days.

Our organization also appreciates a grant from the Union Pacific Foundation to help defray the costs of the caboose's relocation to RailGiants.

We thank both the City of Montclair and Union Pacific Foundation for contributing in preservation of this important artifact of local railroad history.
Virtual Tour
Here is a vintage tour of RailGiants Train Museum as first broadcasted on Los Angeles public television station KCET during the summer of 2002. We added new equipment to our collection since then, but world-famous Big Boy #4014 was still here back then – a decade before it became a candidate for steam restoration.

Visiting with Huell Howser (episode #1015)
Big Boy No. 4014 is Operational Under Steam Power
The Railway and Locomotive Historical Society, Southern California Chapter is excited that Union Pacific completed restoration of Big Boy steam locomotive No. 4014. Union Pacific and its steam crew worked with many businesses and organizations to achieve this long, shared Big Boy Steam Dream into reality for the world to experience. We are the organization that preserved and cared for Big Boy No. 4014 during its 52 years at RailGiants Train Museum after retirement. We returned Big Boy No. 4014 to Union Pacific so that this famous locomotive could begin a second operational life. On May 4, 2019, Big Boy No. 4014 reclaimed its prior home on the rails between Ogden, Utah, and Cheyenne, Wyoming. We look forward to Big Boy No. 4014 expanding its territory across more rails of the Union Pacific System. Our organization's gift to steam locomotive fans provides a wider appreciation of major industrial manufacturing and steam technologies that helped build the modern United States.