Welcome to RailGiants Train Museum
Birthplace of the Big Boy Steam Dream, and home to the RailGiants of Southern California's premier railroads!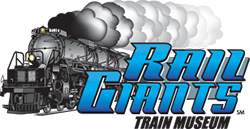 RailGiants Train Museum at the Los Angeles County Fairgrounds in Pomona, California is a historical journey back to the glory days of the American Railroad.
Our Museum houses some of the country's most well preserved Locomotives, which includes several sole survivors of their respective classes. Our RailGiants collection contains two of the four surviving 3-Cylinder steam locomotives; SP #5021 and UP #9000. The largest diesel locomotive, a Union Pacific "Centennial" is also here. In addition to our locomotives we have various pieces of Rolling Stock (freight and passenger cars), our historic Arcadia Depot, Library Archives, and Gift Shop.
We are open to the public the second weekend of each month, from 10am to 4pm. Ample parking is available.
Virtual Tour
Watch a sneak-peak of what you'll see during your visit.